DATE: May 3rd, 2017
TIME: 4:00 PM EDT
Do you know who your ideal client is, and how to reach them? Understanding who you are marketing to is first step in creating any marketing campaign.
Next, you will need to understand what your message is – do you have a clear understanding of who you are, and what sets you apart from the competition? Why are you here? What do you bring to the table (besides the table itself)?
Have you discovered your awesomeness?
This is the first step to creating a clearly focused marketing plan – stop wasting money on ineffective marketing and learn what you need to know to maximize your marketing budget!
During the webinar you'll discover:

  How to identify your ideal client, and learn where to find them


  How to target your services to meet the needs of your ideal clients


  Identifying your awesomeness – discover what sets you apart!


  How to create a clear mission statement, and how this will help you to attract your ideal clients


  Plus, so much more!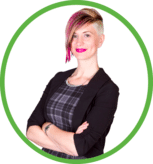 Presented by:
Shauna Lynn Simon
DATE: May 3rd, 2017
TIME: 4:00 PM EDT
If you register and cannot attend, don't worry, we'll send you a full recording the day after the live webinar.
Please Share!